Chaplain Kapaun Gets Medal of Honor 62 Years After Death
In the cold, barren hills of Korea more than 60 years ago, two teary-eyed soldiers stood in a prisoner of war camp where their chaplain lay dying.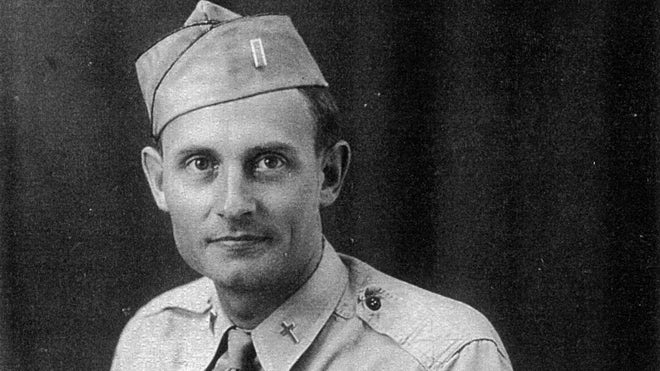 The Rev. Emil Kapaun was weak, his body wracked by pneumonia and dysentery. After six brutal months in the hellish camp, the once sturdy Kansas farmer's son could take no more. Thousands of soldiers had already died, some starving, others freezing to death. Now the end was near for the chaplain.
Lt. Mike Dowe said goodbye to the man who'd given him hope during those terrible days. The young West Point grad cried, even as the chaplain, he says, tried to comfort him with his parting words: "Hey, Mike, don't worry about me. I'm going to where I always wanted to go and I'll say a prayer for all of you."
Lt. Robert Wood wept, too, watching the Roman Catholic chaplain bless and forgive his captors. He helped carry Kapaun out of the mud hut and up a hill on a stretcher after Chinese soldiers ordered he be moved to a hospital, a wretched, maggot-filled place the POWs dubbed "the death house." There was little or no medical care there. Kapaun died on May 23, 1951.
These two soldiers — and many more — never forgot their chaplain. Not his courage in swatting away an enemy soldier pointing a gun at a GI's head. Not his talent for stealing food, then sneaking it to emaciated troops. Not the inspiring way he rallied his "boys," as he called them, urging them to keep their spirits up.
The plain-spoken, pipe-smoking, bike-riding chaplain was credited with saving hundreds of soldiers during the Korean War. Kapaun (pronounced Kah-PAHWN) received the Distinguished Service Cross and many other medals. His exploits were chronicled in books, magazines and a TV show. A high school was named for him. His statue stands outside his former parish in tiny Pilsen, Kan.
But one award, the Medal of Honor, always remained elusive.
Dowe and other POWs had lobbied on and off for years, writing letters, doing interviews, enlisting support on Capitol Hill. Dowe's recommendation was turned down in the 1950s.The campaign stalled, then picked up steam decades later. Kapaun's "boys" grew old, their determination did not.
Now it has finally paid off.
On April 11, those two young lieutenants, Dowe and Wood, now 85 and 86, will join their comrades, Kapaun's family and others at the White House where President Barack Obama will award the legendary chaplain the Medal of Honor posthumously.
"It is about time," Dowe says.
The POWs talked about it at reunions over the decades, two Kansas congressmen tried, once in about 1990, and then about a decade later. Around the same time, a new champion entered the picture.
William Latham Jr., a retired lieutenant colonel, teacher and historian, was interviewing several soldiers held captive with Kapaun while researching a book, "Cold Days in Hell: American POWs in Korea." They told moving stories and urged Latham to take up their medal cause.
Latham scoured the National Archives, gathering evidence of Kapaun's deeds in battle and captivity. He found the chaplain's service documents and eyewitness accounts from Unsan. He collected affidavits from the obliging POWs.
Latham understood the nominating process, the rules and hurdles in securing the medal — especially after decades pass — so he was sure to compile a thorough case. He sent more than 5 pounds of material to Kapaun's family and urged it be shared with the local congressman, who gave it to the Army.
This time, there was success. Latham was thrilled — and not just for the chaplain's memory.
"Emil Kapaun didn't need a medal to prove his heroism, but this recognition is very important to the men who served with him and to the families of the many other POWs who never came home," he says. "How many chances do any of us have to recognize so many unsung heroes?"
Read the article in it's entirety by clicking here
As reported by the AP
DISCLAIMER: Neither Indiana VA Mortgages
(IndianaVAmortgages.com)
nor Luminate Home Loans is affiliated with any
government agencies
, including the
VA
.